As China ratchets up pressure, US wants Taiwan to avoid Ukraine's fate
Tanks, torpedoes, planes, parts – and plenty more. The US government has approved arms sales to Taiwan worth $19.3bn over the past five years (June 2017-June 2022), to help the self-ruled island deter the rising threat of invasion by China.
From Donald Trump to Joe Biden, the US has stayed committed to arming Taiwan with enough weaponry to prevent or at least slow down a Chinese attack. The policy has taken on greater urgency in 2022 as Beijing has supported Moscow throughout Russia's war on Ukraine, although has refrained to do so militarily. Like Vladimir Putin and Ukraine, China views Taiwan as lost territory to be recovered at all costs.
In the military sales infographic below, Enodo Economics sets out what was bought when. The latest sale ($120m of warship parts approved in June 2022), and the experience of Ukrainian forces battling a superpower, have renewed debate about what type of military hardware Taiwan needs to repel China's far stronger People's Liberation Army (PLA), or at least disrupt an invasion and buy time to allow allies to join the fight.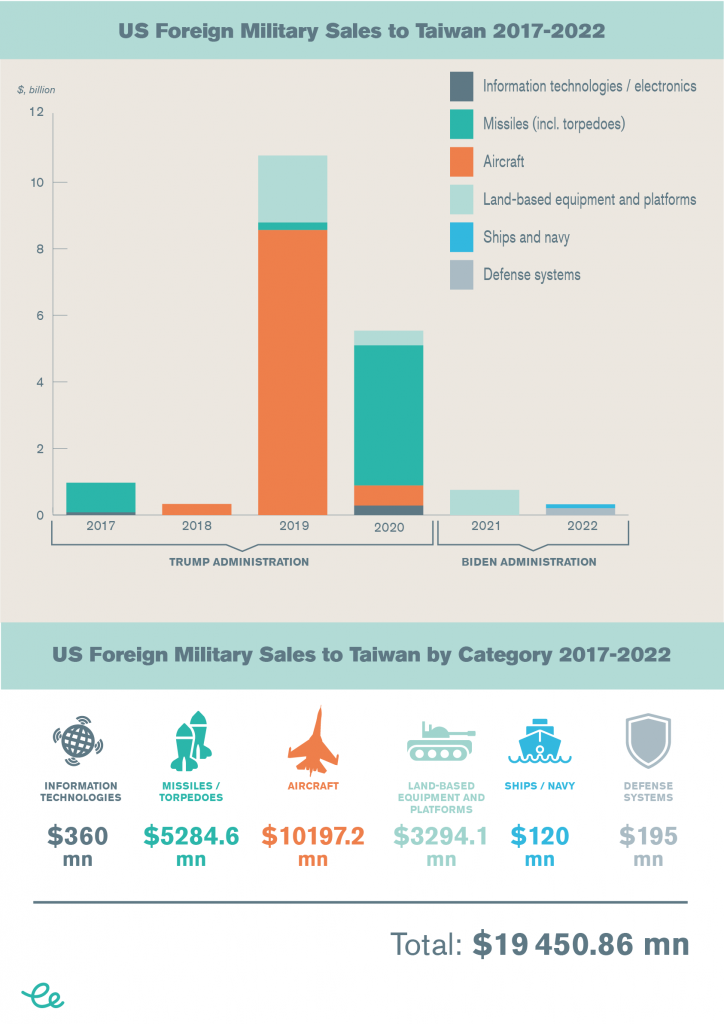 Porcupine Strategy
In recent years, the USA and Taiwan have jointly devised a "porcupine" strategy for the island. Through this Taiwan develops a range of asymmetric warfare capabilities to become a pricklier target for the PLA, instead of relying on big-ticket conventional systems and tactics.
Asymmetric defence includes nimbler, lower-cost options such as deploying drones (to attack or distract). Also portable air defence missiles and minelayer ships to slow a naval attack. But Taiwan has continued to spend big on high-profile, politically popular conventional systems too. In May, US Deputy Assistant Secretary of State for Regional Security Mira Resnick said that Washington would adjust the types of weapons sold to Taiwan, and end most arms sales "that do not fall under the category of 'asymmetric'".
US defence contractors have argued this "restrictive" move could undermine Taiwan's defences, and fail to address challenges posed by China's military, as Taiwan may stop requesting platforms such as MH-60R helicopters. Weapons procurement decisions are based on Taiwan's own needs, and are not influenced by individual arms dealers, insisted the Ministry of National Defense.
Joe Biden
Biden's promise in May that US forces would defend Taiwan militarily, in the event of a Chinese attack, marked his third, precedent-breaking commitment as president. His office quickly stressed (again) that the US policy of "strategic ambiguity" remains intact, leaving Beijing still guessing about the likely extent of US involvement if China invades.
There are efforts underway in the US to step up military support for Taiwan. In June, Senators Lindsey Graham (Republican) and Bob Menendez (Democrat) introduced the Taiwan Policy Act 2022 into the US Senate. The Act provides for $4.5 billion in foreign military aid over the next four years, goes into granular detail about the aid and training to be provided, and seeks to designate Taiwan as a major non-NATO ally, the same status as enjoyed by countries such as Japan and Australia.
The Act calls for the prioritisation of arms sales to Taiwan until such time as Congress has determined that the threat to Taiwan from China has significantly abated, and specifies economic sanctions for China's top leaders if Beijing attacks. Unlike several other China/Taiwan Acts recently introduced into Congress, the seniority of Graham and Menendez, and the bipartisan nature of their bill, gives the Act a realistic prospect of becoming law, albeit with modifications. Beijing will not be amused.
Related Articles:
China and US: Risks Persist That Cold War Turns Hot