Xi Jinping hails wartime friendship as momentum builds towards Biden summit
China is preparing for war with America, warned US secretary of the air force Frank Kendall on September 11. But Beijing won't win, he predicted. "It is your initiative, professionalism and dedication that gives us our enduring competitive advantage," said Kendall in comments directed at US air and space force personnel.
China's commander-in-chief has also been cosying up to American pilots. On September 12, Xi replied to a letter from two veterans of the Flying Tigers, the US volunteers who fought for China during World War II. The people of China and the US "jointly fought Japanese fascists, withstood the test of blood and fire, and forged a profound friendship," he wrote. The two countries "should and must" achieve peaceful co-existence.
State media devoted heavy coverage to this exchange, which Xinhua news agency put under its "Xiplomacy" banner. In August, Xi also hailed US-China friendship in replying to a letter from the grandson of US General "Vinegar Joe" Stilwell. Looking to the future, "the two countries have every reason to help each other achieve success and common prosperity," said Xi.
Xi Jinping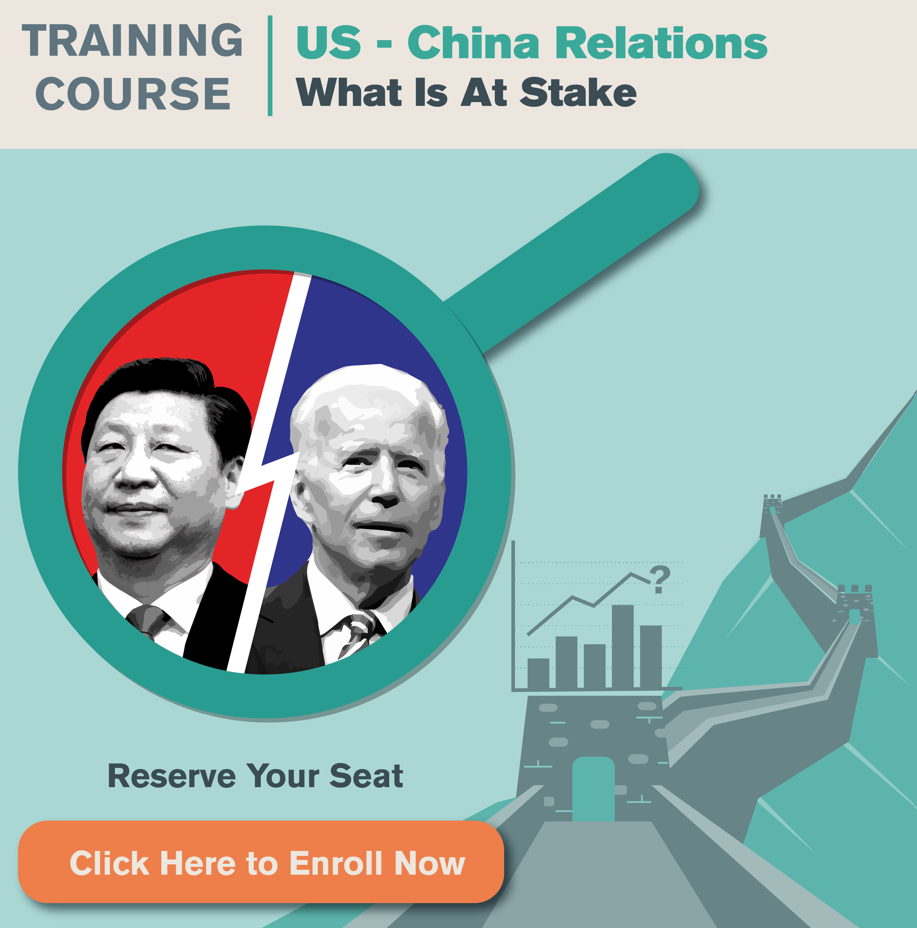 What's behind Xi's apparent olive branch to the nation Beijing accuses of being hell-bent on keeping China down, and blames for rising tensions over Taiwan? For the full story on the world's most critical bilateral relationship, sign up for Enodo Economics' training course "US-China Relations: What Is At Stake".
China's most immediate goal appears to be a more stable bilateral environment before Xi commits to attending the APEC summit in San Francisco on November 17-19, when he could also hold a mini-summit with President Joe Biden. Xi last visited the US in 2017, and last met Biden in October 2022 at an APEC summit on Bali.
The ruling Communist Party has for decades pushed people-to-people ties to build influence abroad even as political relations faltered. Last year, Xi's then favourite, Ambassador to the US Qin Gang, donned a Flying Tigers jacket from 101-year-old pilot Harry Moyer, who wrote to Xi this month. The Tigers' story is "a shining beacon in our friendship," said Qin, who himself shone brightly on a meteoric rise to (and recent fall from) the foreign ministry's top job. Qin enjoyed his time in the US rather too much – fathering a child there with his mistress and leaving him vulnerable to US security pressure, reported the Wall Street Journal.
A flurry of meetings, but…
Xi is now putting more than warm words behind efforts to repair relations, as both sides step up high-level contacts. Xi's replacement foreign minister Wang Yi, who was already the Party's and therefore China's top diplomat, secretly met Biden's national security adviser Jake Sullivan in Malta on September 16-17. The meeting forms "part of ongoing efforts to maintain open lines of communication and responsibly managing the relationship," said a US official.
A day later, US Secretary of State Antony Blinken met Vice President Han Zheng on the sidelines of the UN General Assembly in New York. Han told Blinken that U.S.-China relations face "difficulties and challenges" that require both countries to show "more sincerity" and make additional efforts to "meet each other half way."
These signs suggest that Xi and Biden's top envoys are laying the groundwork for their bosses to meet in November in the US. But it's far from a done deal. The US could announce further restrictions on US investment in China's tech sector. And even without such moves, Beijing may decide the White House hasn't made enough concessions to warrant their leader's presence.
On September 4, China's Ministry of State Security published an article laying out the conditions for a Biden-Xi meeting. In order "to truly achieve 'from Bali to San Francisco', "the US must "show enough sincerity". And Beijing will be the judge of that.
Moscow nights
Wang Yi had been expected to attend the general debate at the UN. Instead he flew from Malta to Moscow to start a four-day programme of meetings in Russia, where he and counterpart Sergei Lavrov noted "closeness" in their positions on Washington's "anti-Russian and anti-Chinese" stance. President Vladimir Putin accepted Xi's invitation to attend the Belt and Road Initiative forum in China in October, an event that will show sceptics that Xi's project may have slowed down, but is far from fading away.
Despite the West's disapproval, China still stands firmly behind Russia, and pursues ever deeper trade and investment cooperation. China is now the senior partner in a complex relationship with a highly troubled history. Moscow remains central to Beijing's ambitions to challenge the US-led world order and carve out a geopolitical bloc led by China.
Xi's only international trips so far in 2023 were to Moscow in May and South Africa in August for the BRICS summit (Brazil, Russia, India, China and South Africa). The group will gain six more members in 2024 and extra clout to form a counterweight to the G7. BRICS also enables Xi to portray China as the leader of the Global South, as he pledges "to make global governance more just and equitable" – and thereby bolsters China's influence among developing and emerging nations. China will "always be part of the developing world and a member of the Global South", no matter how advanced it becomes, Xi's envoy told the Summit of the Group of 77 (G77) China in Havana on September 15.
Clear and present danger
Chinese media will enjoy reporting on the USA's dysfunctional politics all the way up to election day in 2024. But the US remains pretty united on one issue: standing up to China, which the US government considers America's preeminent security threat, ahead of Russia, North Korea, and extremist organisations.
"We will push back on aggression and intimidation and defend the rules of the road, from freedom of navigation to overflight to a level economic playing field that have helped safeguard security and prosperity for decades," Biden told the UN. The Republican Party slams Biden's Democrats for being too soft, while Republican primary candidates squabble over who is the most hawkish on China.
Amid the rancour and rising risks, let's close with the hopeful outlook of a proud centenarian. Flying Tiger Harry Moyer turns 103 next month – and plans to visit China this year to attend photo exhibitions in a dozen cities.
US-China Relations: What Is At Stake?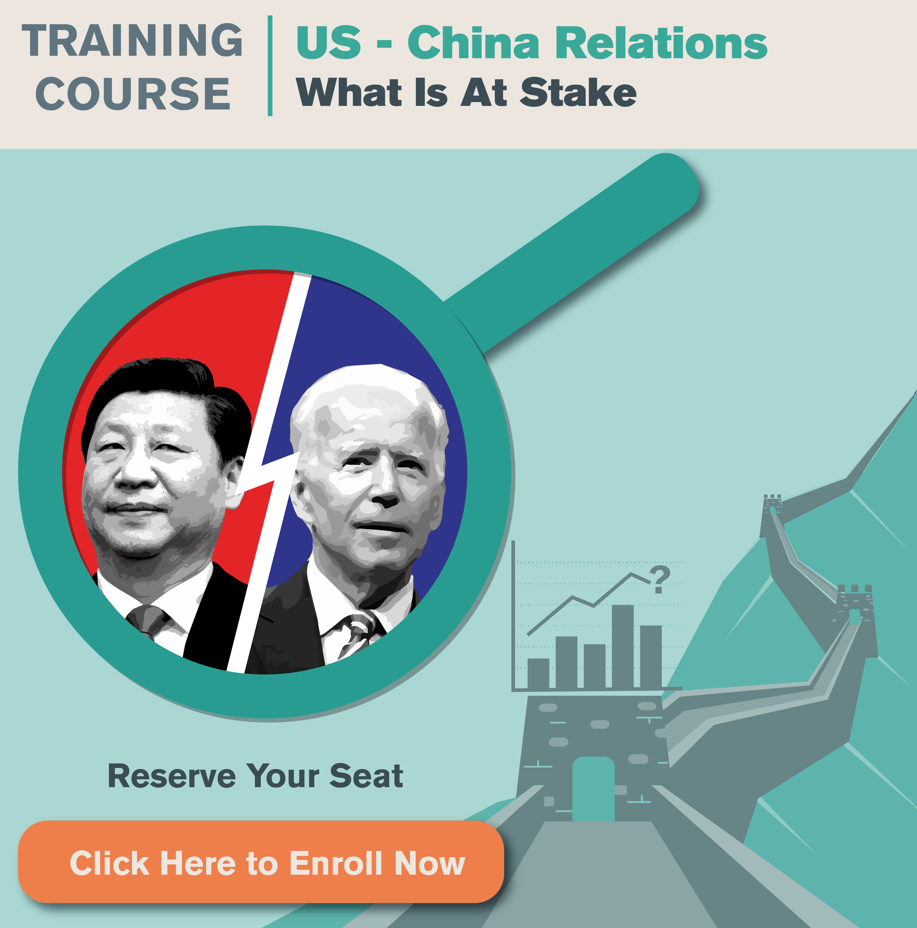 Lay the groundwork for your own more effective dealings with China by signing up for Enodo Economics' training course "US-China Relations: What Is At Stake". You'll learn where bilateral relations went wrong, the impact of the tech war, the likelihood of war over Taiwan, and plenty more besides.
You will learn directly from Enodo's experts, who together have more than 250 years of experience focusing on China.
Over the course of 4 weeks, you will learn from online videos in your own time. The videos will remain available to you for 3 months, so you can dip back in whenever needed.
You will also be invited to 3 interactive online sessions with your instructors, so you can ask all your questions on the course content or on specific topics that are of interest to you. These sessions are recorded, so can be watched at a later date if you have a scheduling clash.
The course starts on 7th November.
We look forward to welcoming you to the course. Don't delay as the spaces are limited. Register HERE.
Related Articles:
Taiwan presidential election set to shape US China relations