How Is the Year of the Rabbit Kicking Off?
What pandemic? Beijing's strict zero-Covid policy spelt disaster for too many Chinese firms. But not Henan Mine, a crane manufacturer in central China. To reward the staff who raked in sales revenue of $1.36bn in 2022, a 23% jump on 2021, the boss had $9m stacked on stage, in bundled banknotes, for their Lunar New Party on January 17.
The cash mountain was handed out to 40 sales managers as year-end bonuses. The top performers needed colleagues' help to haul their loot home. Video of the stunt went (predictably) viral, as intended: new orders are flooding in, so we must hire aggressively, and calls to our HR department haven't stopped, publicity manager Feng Xiaobei told The Paper.
For most companies, and the citizens who power them, the third year of the Covid era was brutal. China's economic growth in 2022 slumped to one of its worst levels in nearly half a century: GDP expansion of 3%, far below the official target of 5.5%.
But don't panic, Xi Jinping's economic tsar told the global elite gathered in Davos. On the same day as the Henan cash-fest, Vice Premier Liu He reassured the world that China's door will open ever wider and the economy will reach a normal growth rate in 2023. The IMF agreed in late January, raising its estimate for China's GDP growth this year to 5.2% (from October's 4.4% projection), citing a faster-than-expected recovery from the zero-Covid regime.
Lunar New Year
The all-important lunar new holiday (officially January 21-27) saw the year of the tiger give way to the year of the rabbit. For the first time in three years, Chinese people were free to travel without the hassle of quarantine, fear of lockdown or constant testing, to reunite with families or enjoy long-delayed holidays.
The travel numbers were encouraging, with 226 million domestic trips marking a 74% surge from 2022, but still far below pre-pandemic levels. Sales revenue of China's consumption-related sectors during the week-long break rose just 12.2% from last year. Business owners in tourist beach hotspot Sanya, on Hainan Island, told Reuters they were disappointed with the lukewarm recovery.
But a nationwide recovery is expected, thanks to that pivot on Covid. China's health officials say the current wave – China's first full, nationwide exposure to the virus – is "coming to an end". The number of severe Covid cases and deaths is trending downward. The Centre for Disease Control and Prevention said there had been "no obvious rebound" during the holiday, with hospitalisation rates down over 85%.
Nations worldwide thirst for an obvious rebound in Chinese tourists. From February 6, Chinese holidaymakers are allowed to travel overseas in tour groups again. They can visit 20 countries including Thailand, Russia and New Zealand. Thailand expects to welcome 7-10m this year, close to 40% of Bangkok's target for international arrivals.
There's an awful lot of recovering to do. China's civil aviation industry plunged deeper into the red in 2022, reported Caixin, as Covid restrictions sent passenger numbers tumbling to a 12-year low. The Civil Aviation Administration of China (CAAC) now expects the industry to break even in 2023 as it works to boost passenger numbers and flights.
The housing market started 2023 with a whimper, as industry data showed the 100 largest Chinese developers (by sales) sold $52.5bn worth of new properties in January, down 32.5% y/y, and 48.6% m/m. New-home prices in 100 cities continued to drop for a seventh consecutive month in January.
While the Lunar New Year holiday contributed to the declines, property companies going bust will be a common sight this year, and the surviving 100,000 firms will gradually shrink in scale, predicted Yi Xianrong, a banking and finance expert.
China's exports and imports slumped less than expected in December. But China's foreign trade environment is "extremely severe" and the outlook for investment is also challenging this year as the global economy slows and faces uncertainty, warned the Ministry of Commerce last week.
Some foreign fund managers spy profits this year. Money is flowing into mainland Chinese and Hong Kong stocks in ways not seen since 2018, according to research firm EPFR Global, which reported active foreign fund managers putting $1.39bn into mainland Chinese stocks in the four weeks ending January 25 – and $2.16bn into Hong Kong stocks.
How well-grounded is their optimism on Chinese stocks?
Much will depend on Beijing's renewed efforts to get Chinese consumers spending more.  Xi Jinping gathered the Communist Party's Politburo last week to speed up establishment of a "new pattern of development" and increase efforts to boost consumption in order to realise a virtuous economic cycle. "The greatest potential of the Chinese economy lies in the consumption by the 1.4 billion people," agreed Premier Li Keqiang. "Boosting consumption is a key step to expand domestic demand."
Our analysis suggests that, despite Beijing's efforts, for now consumers are likely to save more than spend more. Strap in for a fascinating year ahead. May your endeavours in this year of the rabbit see you smiling as widely as Henan Mine's star workers, this time next year.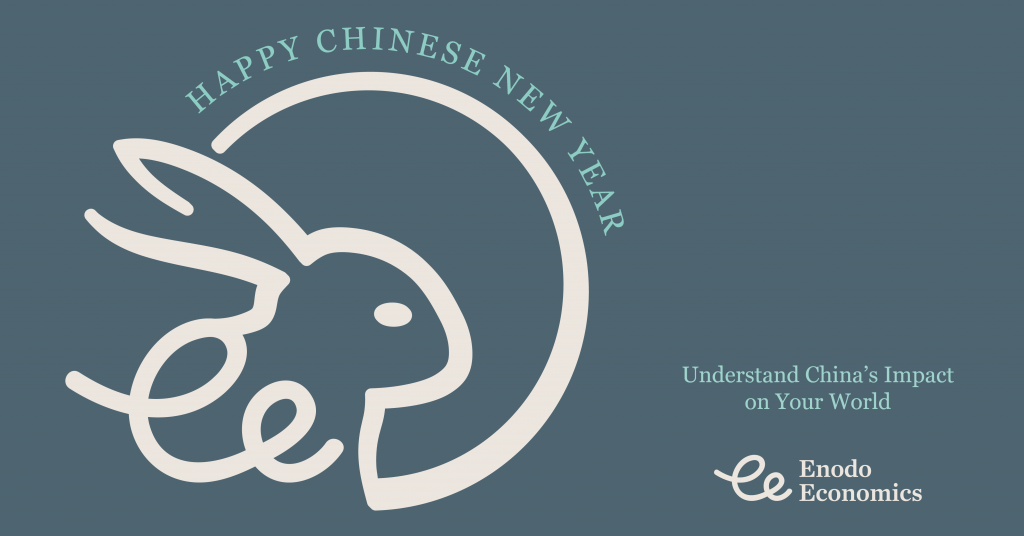 Related Articles:
China After COVID: Joining Us in the Studio Tonight We Have…